Welcome to Lake Wildwood!
Welcome to Nevada City
Historical downtown Nevada City is one of those must see towns which will take you back in time and make you feel as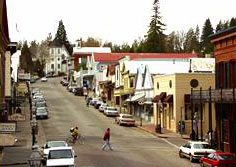 if time has stood still. An early morning stroll down Broad Street will take you back in time as the morning mist rises up from Deer Creek and hovers in the basin. The Historical Preservation District has unique buildings at every turn. Many of the buildings have been restored and have a historical plaque to describe their history. As one moves away from downtown obviously the homes get newer and the lots get bigger. The feeling of being away from it all can be had only minutes from downtown. Elevation ranges from 800′ to 4400′.
Visit Us:
Sikes Realty
Broker#01235343
11456 Pleasant Valley Rd
Penn Valley, CA 95946
The information on this form is from various sources. It has not been verified by Sikes Realty, the brokers, the agents, nor the Nevada County Multiple Listing Service. Buyers, Sellers or any interested party are advised to hire appropriate experts and professionals to verify information. Sikes Realty and its agents are licensed by the Department of Real Estate, State of California.